AMERICAN MOTORCYCLIST MARCH 2019
Davis Fisher
American Flat Track
In his five-year American Flat Track career, Davis Fisher has experienced his share of victories and defeats. The son of former AMA Grand National Championship racer Rex Fisher, the Warren, Ore., product experienced a year as a factory rider and continues to push his racing career forward on his own.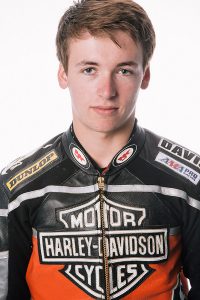 Davis Fisher made a strong impression on the flat track paddock shortly after turning pro in 2014. He missed out on winning the FTPro Class title by 1 point and finished second in the GNC2 Class standings his rookie year. He won the GNC2 Class championship in 2015. His success in the series' junior classes earned him a factory Harley-Davidson ride for 2016.
Despite his strong results in the lower classes, Fisher struggled to get the newly-introduced Harley-Davidson XG750 model to work for him. He finished the season 15th in the GNC championship standings, but notched three top-10 finishes.
Fisher said a lot of self-doubt crept in as the 2016 dragged on. But his time as a factory rider gave him experience with public relations. And he enjoyed having so many fans walk up and want to talk with him.
After losing his factory ride, he set out in 2017 to show that his results from the previous year weren't indicative of his capabilities. Riding a privateer Kawasaki-powered machine, Fisher finished the 2017 season in eighth place in the AFT Twins Class standings, with two top-fives and 10 top-10 finishes.
In May 2018, Fisher bought an Indian FTR750 from fellow racer Andy DiBrino and has been campaigning that bike in AFT Twins competition.
Since he competes without the backing of a factory or major team, Fisher and his father have to keep costs down and run their program on a tight budget. Fisher drives a van to each round. The van is loaded with the FTR750 and everything he needs in the paddock.
During the 2017 season, Rex Fisher flew into rounds on Friday mornings to help with set-up on Friday and race day Saturday, then flew home Sunday to be at work Monday morning.
Davis Fisher said it was frustrating going from being a factory rider back to being a privateer, but what he has accomplished as a privateer means even more to him now.
He also said there are some small advantages to being a privateer in pro flat track competition, like being able to try new parts without having to consult factory engineers.
Fisher said some of the downsides of being a privateer are the lack of media and fan attention and the demands of doing so much of the off-track work on your own.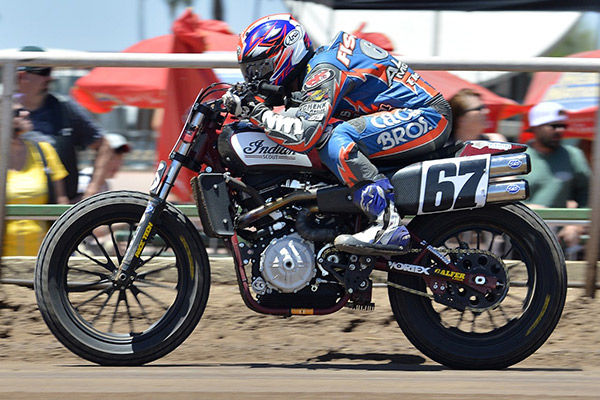 "It's hard to get people's attention in the paddock when you don't have a big transporter, like the factories and bigger teams do," he said. "In 2017, I had to spend a lot of time working on the bike and didn't have the time to train properly. In 2018, I realized I had to make time to train and get to the gym more."
To support his racing career, Fisher lives with his girlfriend's family in Michigan about eight months of the year and works for his girlfriend's father's heating, ventilation and air conditioning business.
Fisher's advice to other privateer flat track riders is to stay positive, even when things get tough.
"It's hard, because when something goes wrong, like the bike fails, it's on me," he said. "You just can't let it get to you, and you can't leave out physical training."